Monday 10th July - Sydney to somewhere in QLD
We departed Sydney at 9am, the plan was to leave earlier but as usual everyone was running a tad late. Dion, Izzy and Alie drove the SA car to Ourimbah to pick up the mystery club member, Jonah. Having just met the people he was doomed to spend the next 11 days with, he remained agreeable and silent for a good 48 hours. We drove continuously until 5am the next morning, only stopping for toilet breaks and to check and mark the occasional dead roo with spray paint. We just pulled over to the side of the road and threw our sleeping stuff down.
Tuesday 11th July - Somewhere in QLD to Mission Beach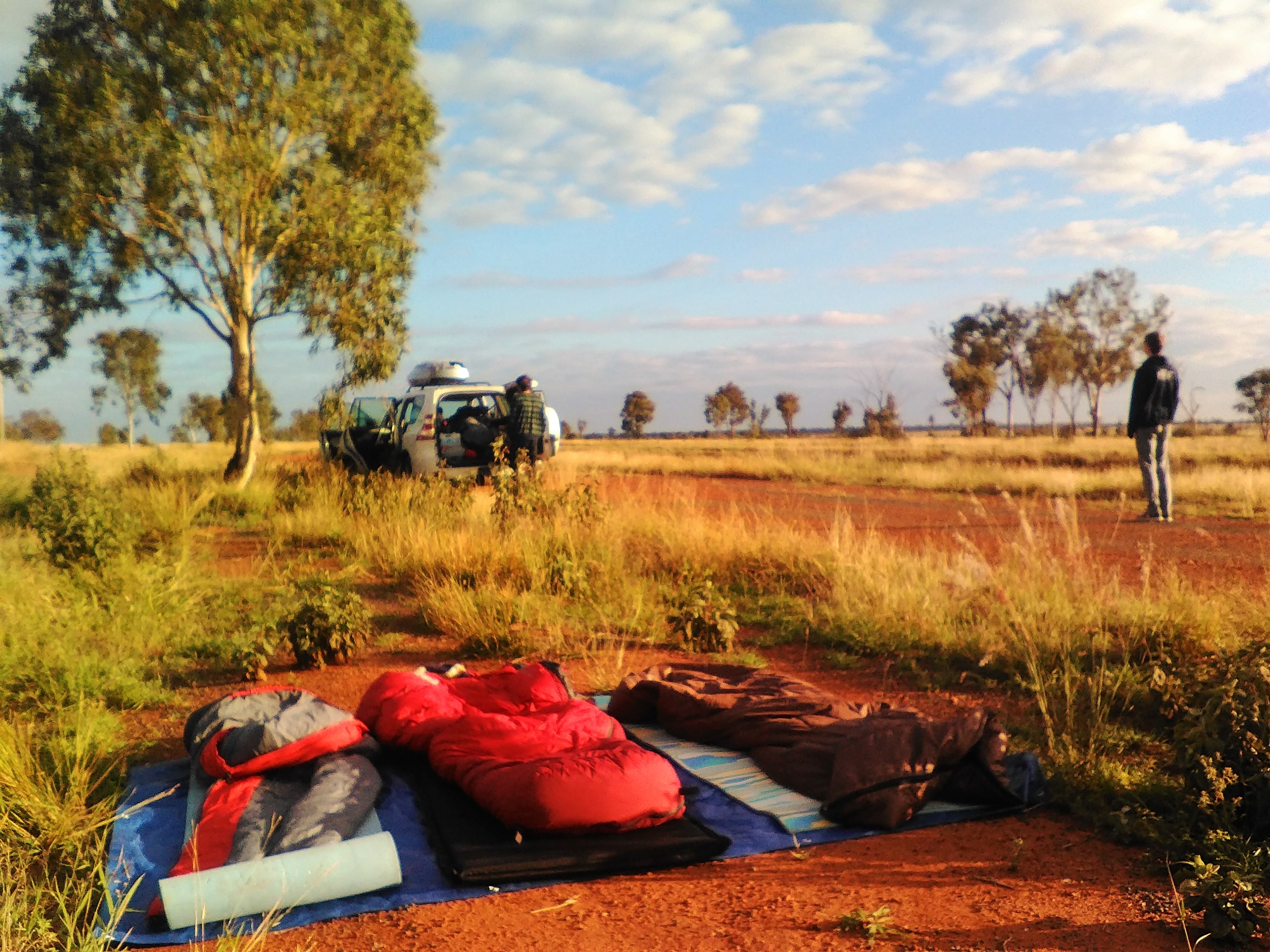 Not knowing where we camped, we suddenly woke up at 7am with birds of prey circling over us and road trains blaring past. Without any reception we couldn't pinpoint exactly where we were but our guess of 1.5 hours out of Charters Towers proved to be accurate. With a whole 2 hours sleep in our system we joyfully (for some) drove to Charters Towers. In town we realised that everyone other than Izzy had forgotten that winter in the tropics was very hot. With a quick breakfast and vinnies trip we were on the road again to Mission Beach. After a lovely swim (watching out for crocs of course) and dinner at mission beach we decided to camp there as we were meeting a member of the Chillagoe caving club the next morning for some cave maps and notes. Fearful of being eaten by a cassowary none of us dared to leave the tent for long.
Wednesday 12th July - Mission Beach to Chillagoe, Carpentaria Cave
Early that morning we met with a member of Chillagoe Caving Club as organised by Izzy. Over coffee he briefed us about the caves, showed us the maps he made and other charts of unexplored caves still in progress of mapping. After a few particular cave suggestions we thanked him for all the glorious information he gave us and departed for Chillagoe.
Chillagoe was about 3.5 hours away from Mission Beach. There was a vast change in vegetation from tropical rainforest to dry outback scrubland. Arriving in Chillagoe it was pretty easy to find the cave club - a classic QLD house. We drove to Markham tower and after a little searching we found our first cave - Carpentaria Cave. This cave is a vast network of tunnels leading into chambers with daylight holes. It is quite a spectacular karst cave system unique to the local geology of Chillagoe. There were no vertical components, simply wandering, crawling and scrambling. The biggest shock to us when we entered the cave were the glowing eyes all around us - spiders -  don't worry you get used to them.
After a few hours in the cave and exploring everything on the map, Jonah decided to do a little free soloing - aaah I mean cave climbing… We followed him out a daylight hole and emerged from the cave roof into the center of the tower. We could see the pink sky above us but were surrounded by sharp gothic-looking limestone walls. Izzy alerted us to some plants she suspected to be suicide plants (Dendrocnide moroides) - seriously, google them! Fearful of being stung, we buttoned up our cave suits and scrambled up the sharp flakes. Unsure if there was a way out other than back into the cave we climbed the limestone spires to have a look at the landscape around us. We reached the top just as the orange sun dipped below the horizon. Without food, water or a map of the above ground world we voted whether to go back into the cave. Alie was outvoted and we proceeded to climb down the outside of the limestone spire. After a few encounters with native fauna we reached the bottom by dark. A little disorientated by the decent and dehydration we decided to walk around the tower anticlockwise until we reached a familiar landmark. After an hour of bush bashing we reached a cave tag, checking our cave map located where we were. Minutes later we reached the car for a deserved drink of water. Lesson #1 - you need to take more water when caving in the tropics than you would with temperate caving.
That evening we wandered to the Chillagoe Pub wearing blue on state of origin night, let's just say we got a lot of odd looks but the town folk were friendly enough...
Thursday 13th July - Christmas Pot
After waking up to the sound of Chillagoe State School's percussion we embarked on a journey back to Markham Tower. Following our explorations of the tower exterior the night before on our exciting exit from Carpentaria Cave, we were confident in our abilities to find the nearby Rescue Cave CH69. Unfortunately we were a little overconfident and aimlessly wandered through the long grasses and shrubs around the base of the towers in the hot dry Queensland heat. After a few hot hours we returned to the car, hot tired and frustrated so we ventured off to explore Suicide tower. Who would have ever considered getting sun burnt while caving? Lesson #2 - always wear sunscreen even if you think the cave is close!
Suicide tower was a more condensed tower sitting atop a small hill. The map showed many cave entrances, yet as we discovered, they lay among many more unmarked holes in the ground. On our wanders Jonah came across what we had been anticipating all day - a baby brown snake in the long grass. Thankfully we had a PLB just incase… in the car. Lesson #3 - take the PLB for the approach even though it wont do much in the cave.
Atop one of the sharp limestone towers Izzy and Dion rested whist Jonah and Alie searched for Crocodile pot CH147. Rather, Jonah came across a cave marked CH149, Christmas pot. Thankful to get out of the sun we all huddled in the cave entrance and made an anchor to descend into the cave. Expecting nothing, it was exciting descending into it not having any information about this cave. The descent was an absolutely spectacular 30ish meters. We glided down between white sparkling stalactites, which glistened in the light of our head torches. The cave was so untouched and it was a struggle not to break anything. We awkwardly landed upon the cave floor, desperately trying not to step on the sparkly cave pearls or stalagmites.
Once inside we wandered around admiring all the pretty formations and 400 million year old geological porn. Afraid to touch or break anything we retreated without fully exploring this cave, definitely one to come back to! On the ascent we chose a poor time to leave the cave, the rope we had come down on was a very narrow passage between hanging stalactites and all the bats in the cave chose the same time to leave. Lesson# 4 - try not to leave caves at sunset. We wisely let the most chiroptophobic member - Dion ascend last and with him on the squeeze up an exodus of bats. After a brave ascent we returned back to the car and then to the beloved caving club. On the way home Alie showed us her shoes which had been cut up from the sharp rock, time for a new pair possibly.
Friday 14th July - Crocodile Pot
Following our failed attempt to find this cave we decided to take a direct approach. From the car, we took a bearing and bush bashed to that bearing up the hill in 35 degree heat and sun.
Reaching the same spot we previously searched, somehow we found a massive hole in the ground disappearing to an infinite dark depth. The hole was about 2.5-3m wide and it was a tricky location to make a safe anchor considering the sharpness of the rock. Note: anchor making would have been much easier with the use of a rack. Lesson #5 - when driving so far, convince the dirty trad climbers to give us the club racks. After much thought and difficulty not falling into the hole we made an anchor and proceeded to descend. On the descent the texture of the walls resembled crocodile skin along with the mouth of the cave being lined with sharp limestone teeth. We had no map of this cave and once inside we had a few options on where to venture. The cave took us through a labyrinth of squeezes, caverns and corkscrew climbs. We had a lunch break trying desperately to get a group shot that captured the beauty of the cave.
This cave tended to have a series of looped tunnels which all ended in common caverns. Some caverns contained a tiny daylight hole 30m above us with tree roots hanging down, and others a roof of bats and tree roots and a floor of deep guano. This cave in most places seemed very untouched but occasionally we would reach a slightly polished tunnel showing where the cave had experienced traffic.
After 6 hours in the cave, we were all feeling a little hungry so we decided to follow another daylight hole out. It was easy to climb up to the start of the daylight hole. Dion peered up first - the hole was perfectly vertical for about 4ish meters and had a diameter of about 50-60cm - but it was blocked by hundreds of spiders and their webs stacked upon each other covering the hole. Alie was called make a path through the spiders without harming any of them. After a few minutes and a spider or two inside our cave suits Dion led the way to the surface. To refresh ourselves after such a hot and grotty day first stop was the Chillagoe weir for some swimming and rope swinging whilst overcoming our fear of crocs, well slightly.
Saturday 15th, Sunday 16th, Monday 17th July
These following 3 days we had a rest day/days and explored the local area to see what other adventures were in stall. Perhaps we might need a separate trip report...
Tuesday 18th July - Rescue Cave, Izzy's Birthday!
Determined to find Rescue Cave CH69 on our last day of caving we set out, however Izzy managed to pop a tire just as we arrived at Markham Tower. After numerous difficulties we succeeded in changing it and set out to find Rescue (with GPS coordinates this time). This time we had no trouble finding it and so dived right in. It was a relatively easy 10m free climb down into the cave system and then we were free to explore. Rescue is one of the more well traveled caves in Chillagoe and as such there are many handlines strung up. After working our way through the majority of the cave we decided to look for a tight squeeze that was marked on the map as a possible extension but hadn't been mapped yet. When we found it we figured why, the squeeze was in the middle of the wall, maybe 30 cm wide, 40 tall and 1m long but just super awkward. We stripped off cave suits, harnesses (and some of us our shirts) and Alie popped through first, after telling us it looked promising the rest of us followed. The awkwardness of the hole will not be forgotten, Dion and Jonah had to take their shoes off to fit through.
Once all through we began exploring, trying not to dislodge rocks and dirt. There were no existing footprints and the cave dust lining the floor was deep. After a series of unlikely caverns we found a very pretty collection of crystal mounds, stalactites and stalagmites. Izzy and Dion took photos of the crystals and other things while Alie disappeared down a squeeze of fossilised coral bommies searching for moving air.
Meanwhile, Jonah explored a 10 metre crawl/squeeze between two rock slabs and ended up in a cavern with daylight at one end. Excited to see the light he confirmed they could get out, it was a very awkward corkscrew up through some sharp boulders and a short chimney but worth it, once we got out we discovered we had ended up at the mouth of a different cave not known to connect to Rescue, CH547 (interestingly while looking for rescue we had stood about 10 metres away from this cave entrance!).
As excited young pioneers we walked back to Rescue entrance, traversed Rescue to retrieve our cave suits and harnesses, and climbed back out.
Upon arriving back at Chillagoe we were able to pass on what we had found to the caving club. It was cool to be at the caving club at the same time as an international cave conference. We socialised a bit then we decided to get a headstart on the next days drive and so drove to Herberton, where we camped and celebrated Izzy's 22nd birthday with mojitos courtesy of Jonah the Bartender!
Wednesday 19th July - Herberton to somewhere in Southern QLD
We woke to the sound of runners and dog walkers passing our tent, we didn't realise that we had camped in a local park. Everything looks different at night… From Herberton we drove to Townsville to replace our punctured tire, then more driving. What more to say? Driving driving and more driving. Eventually around 2am we pulled over in a stopping bay somewhere just before Roma and slept in the ditch beside the car.
Thursday 20th July - Somewhere in Southern QLD to Sydney
We woke to the sounds of trucks blaring past. Alie and Jonah did the usual wakeup call and Izzy and Dion grudgingly packed up their sleeping mats. Dion started driving, and took a wrong turn at Roma. After a while Alie piped up and asked why we had spent the last little while driving with the morning sun behind us instead of to our left. With a little frustration we turned around and drove back where we had come from. Eventually after losing a few pairs of shoes and cave suits from the roof we simply continued the long drive home. Late that evening/early the next morning we dropped Jonah off on the Central coast and were rewarded with a warm home cooked meal. We cleaned and vacuumed the car and negotiated that the underwater club could have the joy of washing our new red paint job off. We were safe and sound in bed by 3am, sad that a great trip was over.
Thank you to UNSWOC for supporting us on this club trip with gear and funding. Thank you to the Chillagoe Caving for letting us stay with you, use your lovely facilities, all the advice, information, maps and for welcoming us to your club. And finally to Izzy, the trip leader for doing all the research, contacting people, organizing gear, and all other logistics.