So it's been many many days, perhaps months, since Abi and I went to Crag Care at Shipley Upper. What was originally a trip report gathering dust on the virtual shelf is now a trip report filled with epic tales of stone masonry and dirt shovelling. It will make you wish you had been to the last trip, but more importantly it will make you sign up for the upcoming trip on Saturday, September 2

As the name suggests, Crag Care is caring for the crags that many of us take for granted by maintaining and protecting crags and their surrounding areas.
Crag: An area with rock faces that people climb on. Most crags have a name for ease of reference e.g. Mt Piddington, Bell Supercrag, Pierces Pass.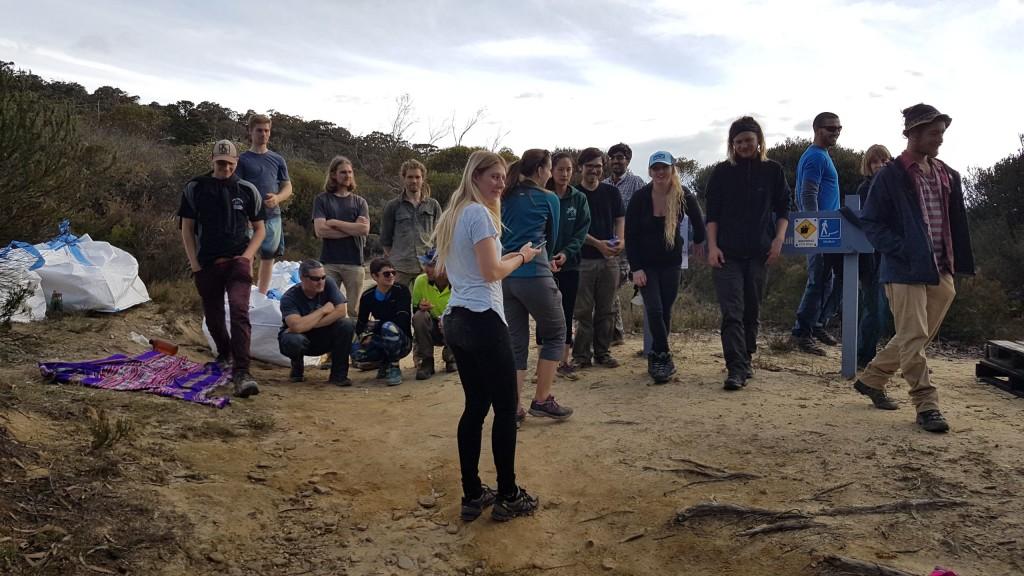 (If you look closely, you can see Abi)
Crag Care can involve pruning overgrown access tracks and improving access by laying out man-made paths. When Abi and I joined the army of Crag Carers on 6 May 2017, we were stationed at Shipley Upper in Blackheath. We were both incredibly sick, but we had already signed up, and this was something we had wanted to do for a while. By 9am we were down at the crag, getting briefed on how to lay out THE perfect footpath. In summary, the process involves laying down one layer of stone that forms as your foundation, making sure the stones are perfectly flat and flush against each other and repeating the same process above the foundation.
Abi, myself and another guy worked together to dig a trench for the next layer of stone and carefully evened out the base to ensure it was as flat as possible. Volunteers are unfortunately not allowed to use power tools, so Abi was stuck at times with the task of hand chiselling millimetres of stone. Other people in the group were also pruning the upper access track.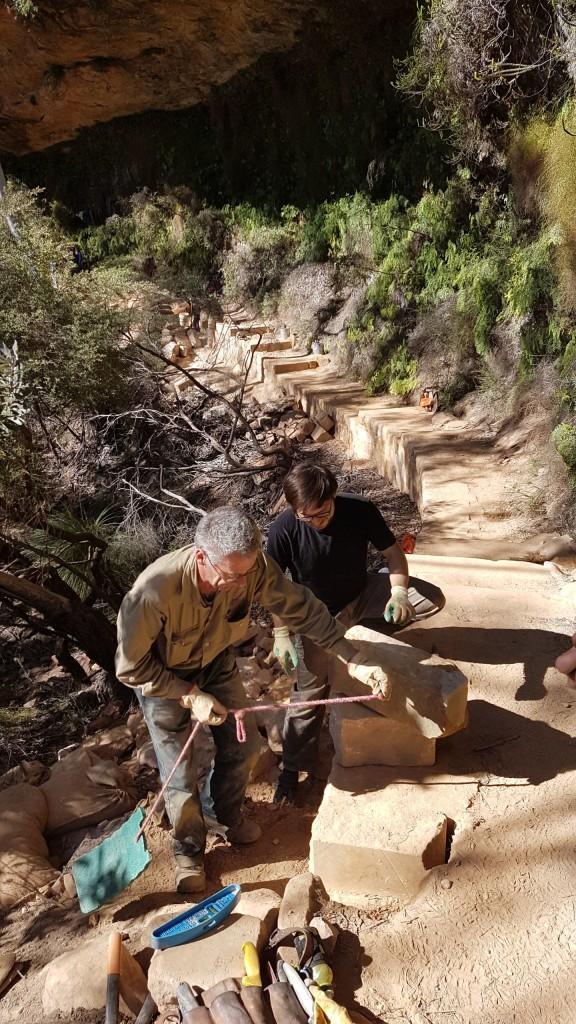 (Every stone must be perfect)
At about 10-11am it was morning tea and we were treated to a spread of fresh fruit and pastries from the Blackheath Bakery. We chatted with some of the other volunteers who included Blueies locals and foreign travellers looking to meet other climbers and to get involved in the local climbing scene.
We were soon back to work, and the trench that we had built was ready to be filled with stone. One at a time, we picked out the perfect stone to lay next to the one that was already set. While Abi was chiselling, myself and another volunteer scraped away, and then added some dirt back underneath each stone, over and over again, until each stone lay flat and at the perfect angle. This process may sound laborious to some, but I was transfixed and perhaps a little obsessed.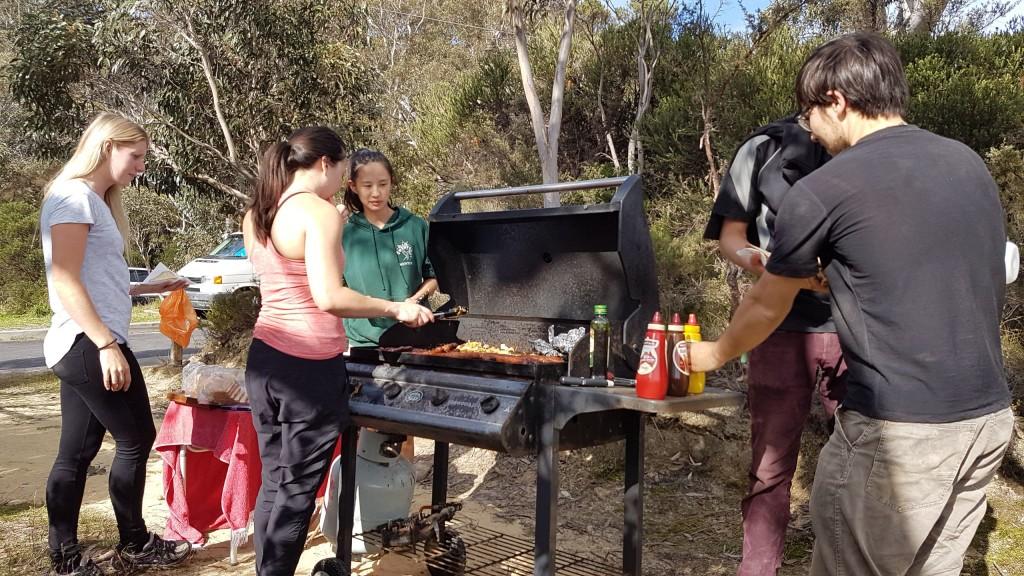 (Lunch)
At about 1pm we were told to down our tools and head back up to the carpark for lunch. We feasted on sausages and vege patties, and basked in the sun that was soon to disappear behind the looming storm clouds.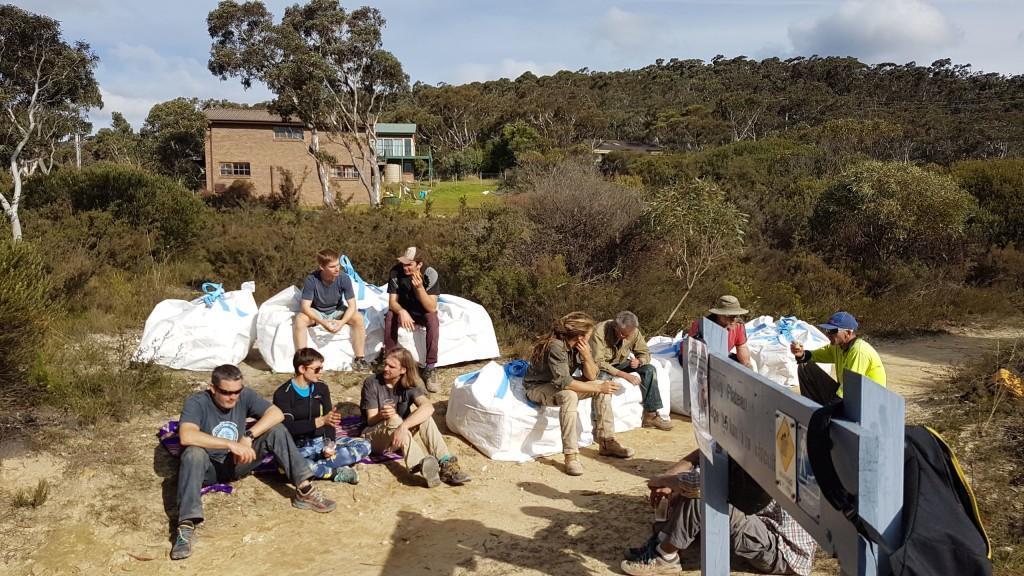 (Chilling after lunch)
After lunch we went back down to finish our section of the track, but by now the clouds were too close to ignore. A call was made to pack up and carry all tools and equipment back to the cars. We quickly shovelled loose dirt and rocks into the gaps of our trench so that people using the path between then and the next crag care wouldn't find their foot stuck in a ditch. We then made haste for the cars caring up shovels, pick axes, power tools and buckets.
Shipley Upper is close to Centennial Glen, a rain protected crag in moderate wet weather. A few people who had travelled from further away (e.g. Wollongong) didn't want to leave without a climb, so they quickly ran back down to the Glen for some afternoon sendage. In most cases climbing after Crag Care would have been the plan, but Abi and I still had a long drive ahead of us down to Pt Perpendicular. We quickly returned our tools, said our goodbyes and were soon on the road.
As a university club that sends a lot of groups to Blue Mountains crags each year, many of us have benefited from the crags being well-established and maintained. Crag Care is one way to give back to the climbing community, and I really hope to see more UNSWOC people at future Crag Care weekends. If you're interested in the upcoming event on Saturday, September 2 please shoot me a message! We will aim to make it a full weekend affair with Crag Care on the Saturday, followed by camping somewhere in the mountains and climbing on Sunday.
Crag Care's Facebook page.
Cheers,
Vicky