It all started about about a week and half ago when James mentioned the idea of going ice climbing down in Victoria. I was skeptical at first, but over the week my enthusiasm slowly grew through cautious excitement, until last Thursday night when I was super psyched and ready to don my crampons.
The plan was to drive down to Mt Bogong in Victoria on Friday morning, walk up to Bivouac hut that night and go climbing on Saturday and Sunday, before returning to Sydney late on Sunday night.
My alarm went off at 6:30 on Friday morning; I quickly ate some toast and went to pick up some kit I lent to my friend, Lauren, a few week prior. I then picked up Jacko, James and Rene. After some faffing to get my old club crampons fitted to my boots, we were in the car and headed to Victoria by about 10:00.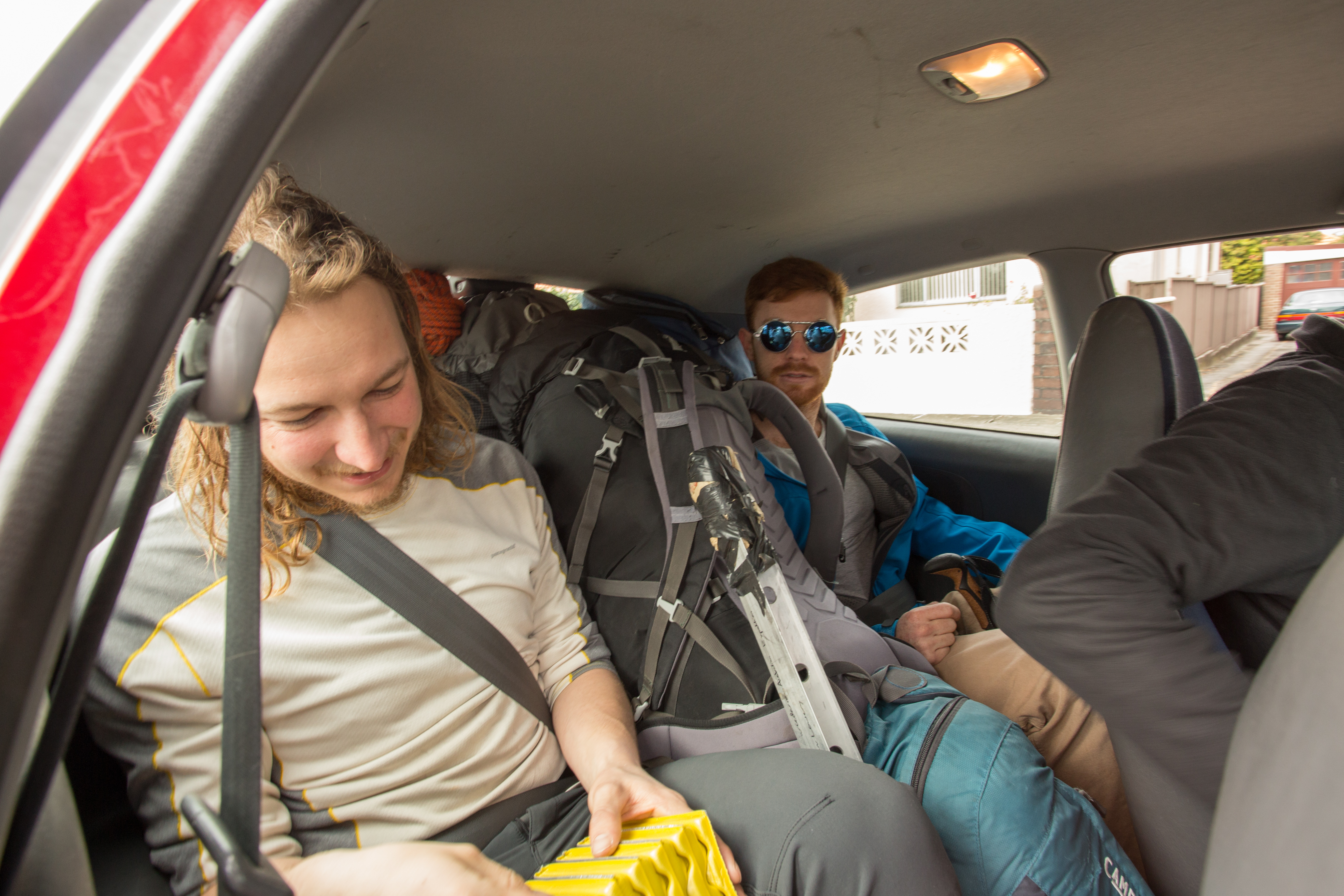 Rene and I shared shared the driving down. It was a fairly uneventful car trip, Jacko caught some Z's and James talked incessantly about climbing. We made a stop in at the Big Merino, where James attempted a fist jam between its back leg and its ball sack (yes, the Big Merino has balls), and another stop at the Dog on the Tucker Box just outside Gundagai, where I bought a Splice. We cruised into Albury at about 4:30 where we stopped to go shopping. Rene had arranged to meet up with a friend at The Bended Elbow so James, Jacko and I dropped him off and headed for coles.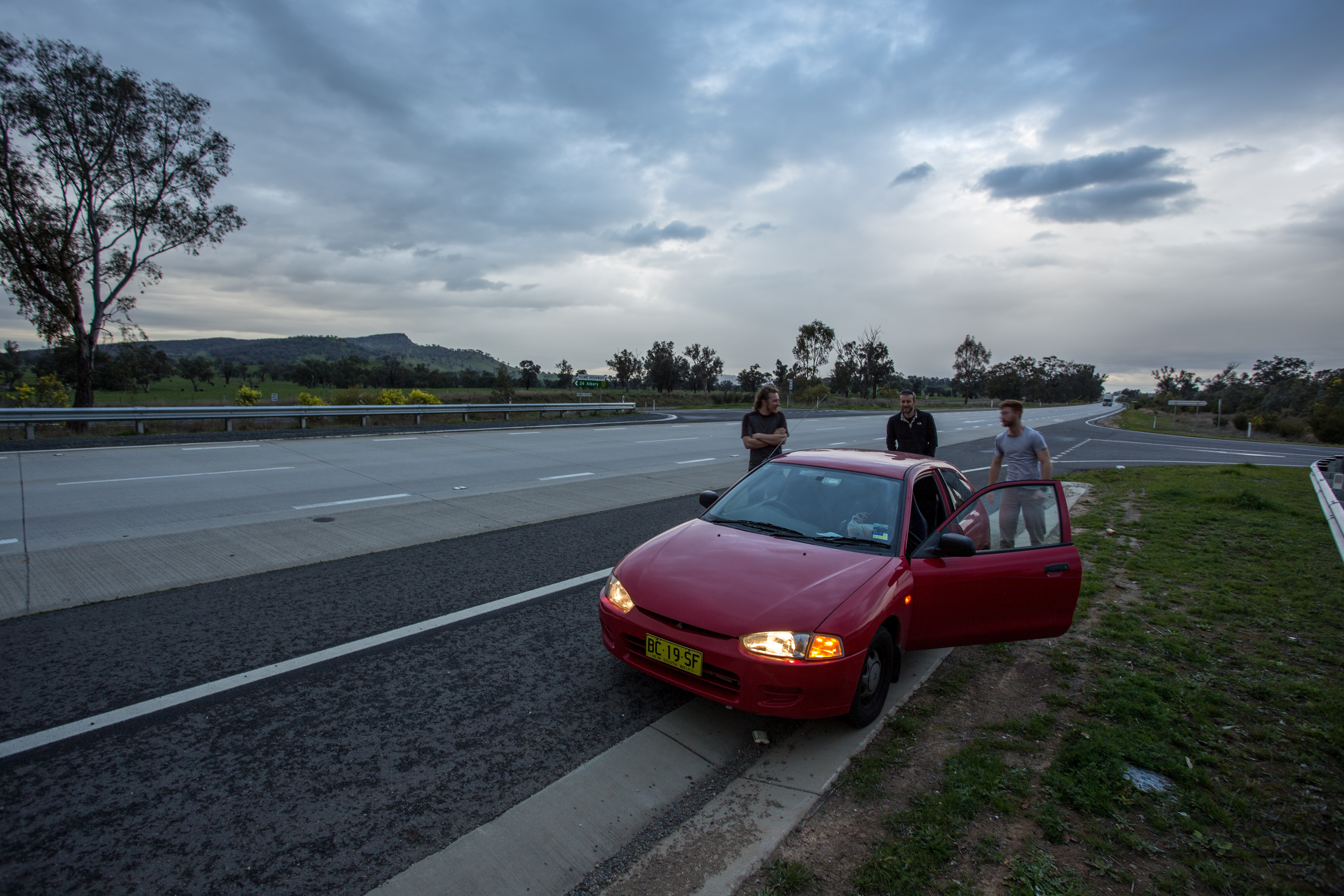 The shopping was full of all things high in energy - chocolate, nuts, muesli bars and sweetened condensed milk!.We looked for Tang but couldn't find any. We took all the food back to the car, loaded it into my pack (I wasn't carrying any rack) and then went to the pub to meet up with Rene and have some dinner. Rene and his friend went to get vegetarian Thai food while James, Jacko and I stayed for a pub meal. The Bended Elbow, while expensive, is very tasty; if you are in Albury looking for food, I recommend going there!
We finished dinner and went outside to wait for Rene. Almost 45 minutes later, Rene emerged and we all piled back into the car. Our thought back in sydney was to be at the hut by 9:00. Considering we were now leaving Albury at 8:00, and still had an hour to drive to get to the base of Bogong, getting to the hut by 9:00 was simply not even remotely possible.
By the time we parked the car, sorted out packs and donned a waterproof layer, it was 930 and we were ready to begin our 1000m ascent to the hut in the dark, cold and rain.
[iframe src="http://connect.garmin.com:80/activity/embed/353653053" width="465" height="548"]
Our ascent took about 2 and half hours, meaning we got to the hut at about midnight. We had a quick bite to eat, drank some water, agreed to set the alarm for 7:00 with a backup at 7:30, and went to bed.
7:00 am rolled around and, with a silent unanimous consensus, we decided to sleep in until the 7:30 alarm. Break fasts for James Rene and I consisted of porridge with a health dollop of sweetened condensed milk. We sorted our racks, packed our bags and set off for the ridge line by about 9:30. The weather for the day would be bleak overcast with visibility no greater than 200m. Half way up the hill, Jacko realised he forgot to pack his harness. He quickly ran back down to get to get and was back in under 15 mins.
We gained the ridge line at about 10:45 and descended a gully down to the base of a nice looking couloir. We roped up and James and Jacko headed up the couloir. Rene and I descended anouther 40m down the entrance gully so I could practice using axes and crampons on more friendly terrain - we claimed this as pitch 1. At the top of P1 decided to head up the steeper rocky sections just to the right of where James and Jacko started. Ultimately we would end at the same point, however we were much slower than them.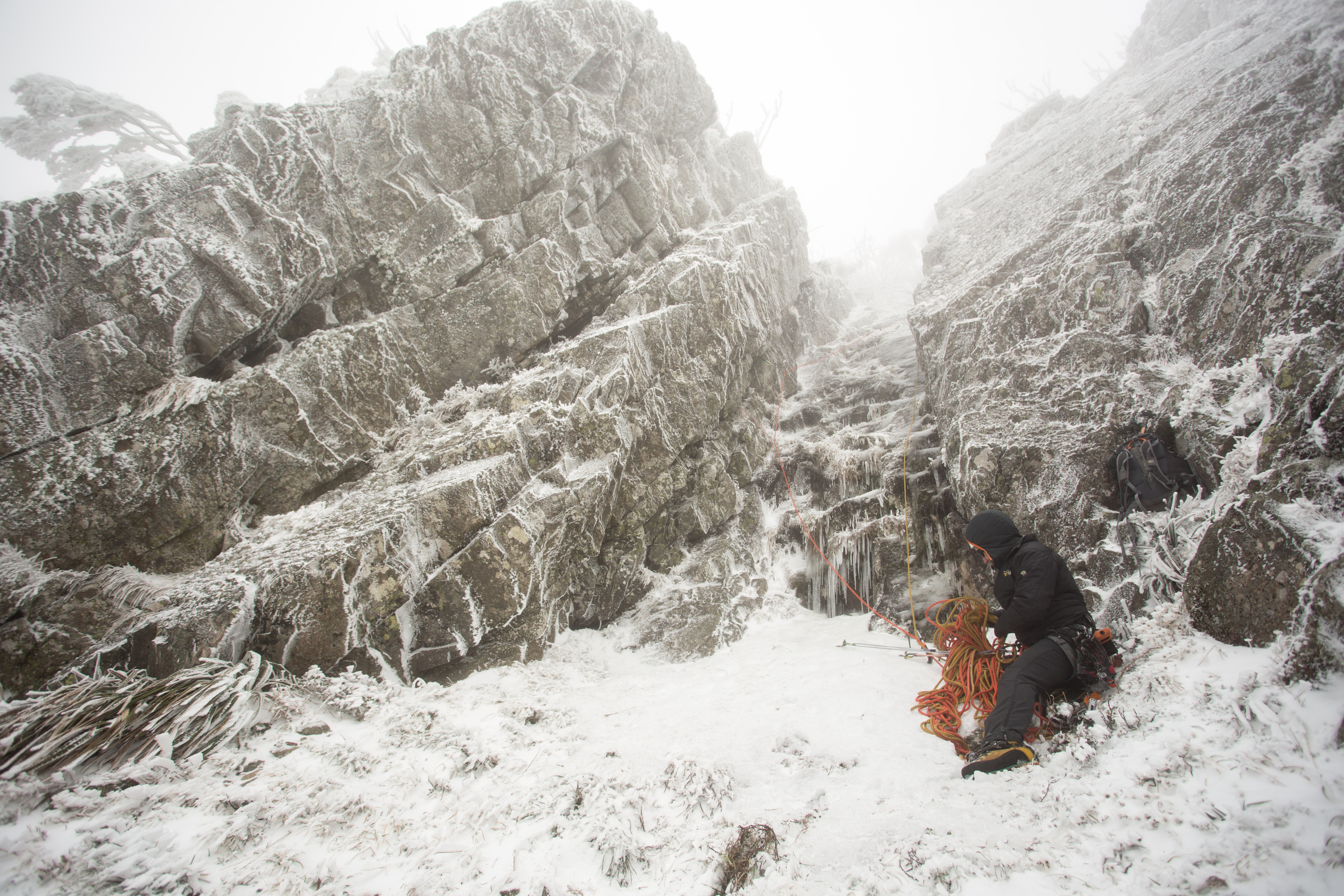 P2 was a steep section of blocky rocks which topped out on a narrow ledge with a two nut and single cam anchor. Rene and I both agreed that this was the best pitch of the day. The temperature during day hovered just around freezing; while on belay ice would fall on me and melt, leaving me quite wet. However once a wind kicked up, all the water on my cloths would freeze, leaving my gloves and jacket covered in a thin film of ice - it was pretty cool.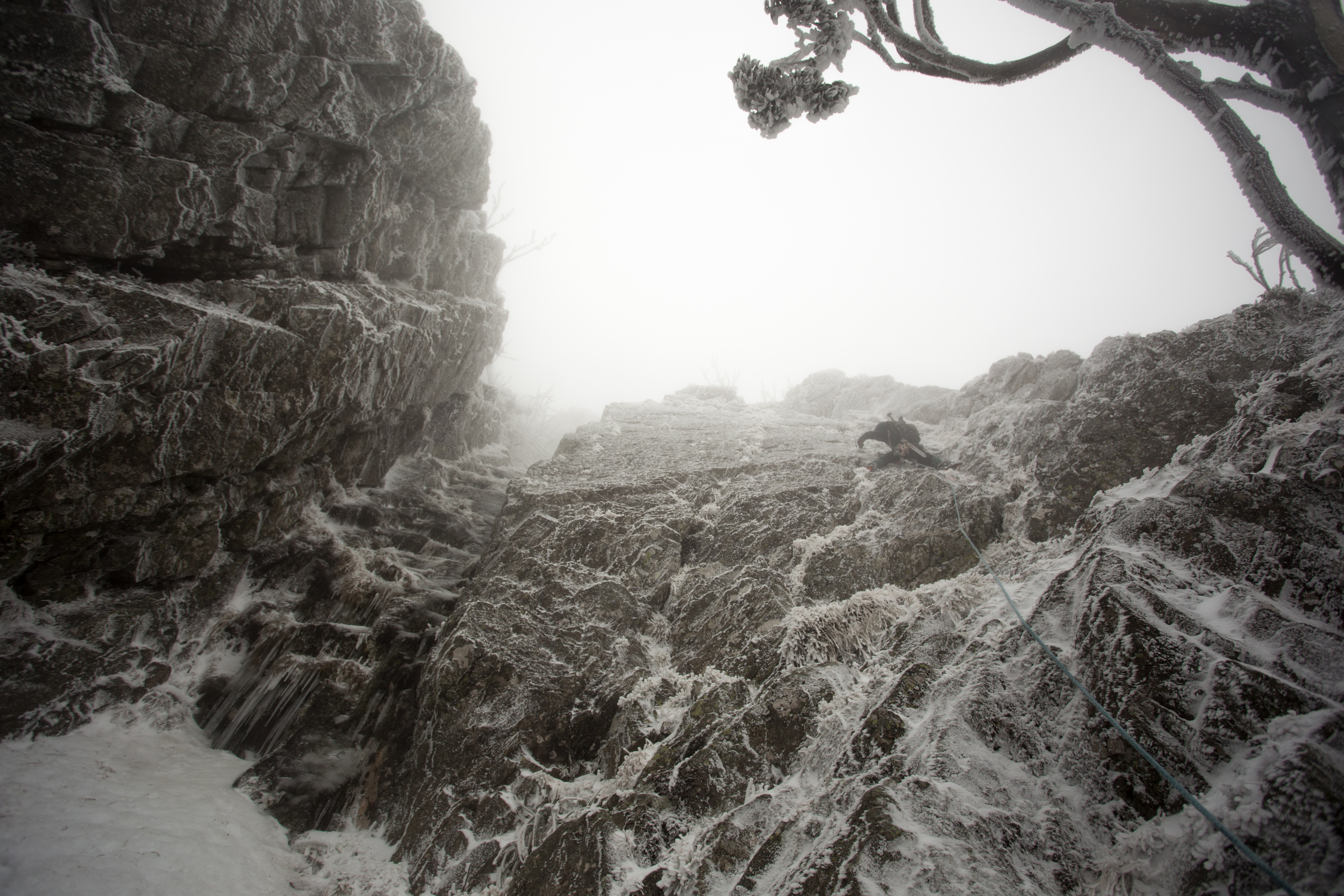 Whistles proved to be quite useful for communication in the wind. 1 whistle from the leader meant that he was safe - and 1 whistle reply meant that he was off belay. 2 whistles from the leader meant that the second was on belay - a 2 whistle response meant climbing. It worked pretty smoothly. Lesson here, kids - communication is key! whether it be rope tugs or whistles, make sure you discuss communication with your partner prior to setting out. However, on long routes where wind might play havoc, I would suggest yelling is not very good.
Pitch 3 started with a traverse out to the left a couple of meters which provided some nice expose, before heading further up the rock face. Rene found himself quick puckered by the lack of pro at the start of P3. It wasn't until 10m up before he managed to place a cam that would have been of any use. As I seconded up, the first RP he placed was pretty marginal, and the next piece - a cam - came out with a stiff tug. The next piece of pro turned into a bit of debarcle. While going to pull a cam out of a deep crack, I accidently pushed it further in. Unable to pull on levers, I made the decision to leave it behind and continue climbing.
At the top of P3 I found Rene had set up belay under a snow gum, sheltering us from the wind. Later that night James would remark "Australia, the only country in the world you can sling a gum tree for protection on an Ice climb".  We shared some cheese and Vita-wheats for lunch before Rene rapped back down to rescue the cam. 15 Minutes later he signaled that we was coming back up with the cam - hurrah!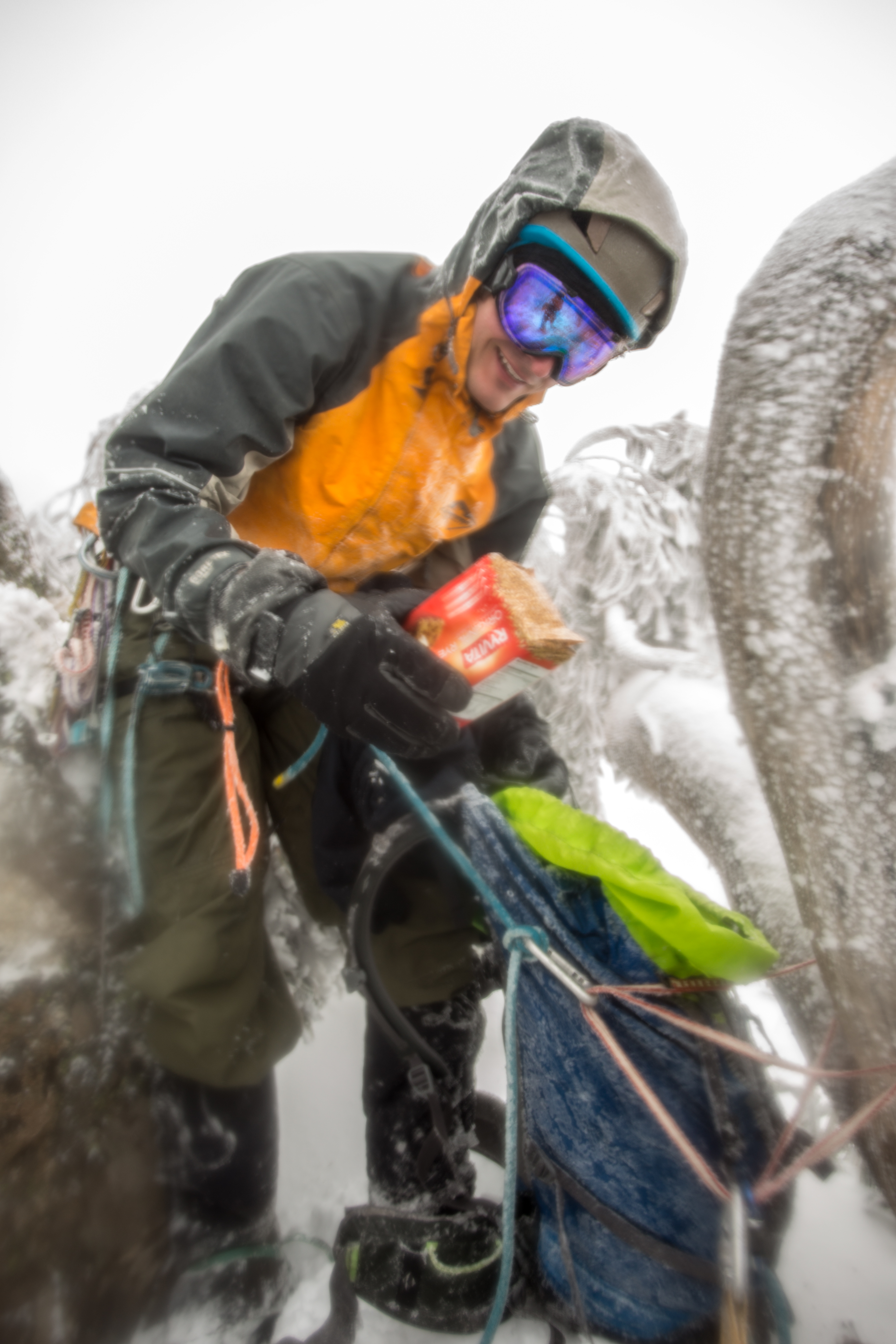 Pitch 4 was little more than a steep walk up a narrow gully. On belay I got a little worried as amount of rope in pile got smaller and smaller. Eventually Rene stopped climbing and signaled that he had reached the belay, with probably only 1.5m of rope to spare.
Pitch 5 was the same again only with more exposure. Considering it was 4:40 and we wanted to get out, we made the decision to put the rope away and solo the final 40m. While the climbing was easy, a fall would have meant a pretty nasty slide down a couloir and over the edge.
We topped out just before 5:00pm and and discussed what to do about meeting up with the others. We had made a pretty rookie error in not discussing out exit plans with the other group prior to starting the day. Rene and I decided to wonder around on the ridge with whistles to try and get a response from them. With visibility still at less than 200m, we made sure to stay in visible contact with each other. To be honest, we had no idea what they had done. We didn't know when they would go back to the hut. We didn't know if they had planned to do another route. Since we had came out the same exit gully, we were pretty sure that they hadn't come to grief, but even still...
After 15 minutes we headed back to the tree line to see if they had gone there. By the time it got to 5:45 it was starting to get dark and we reasoned that they had gone back to the hut, so we decided to descend the mountain. We discussed the possibilities: What if they aren't there? What if they did another route? Do we come back up the mountain and look for them in the dark? Anouther lesson to be learnt here, kids - always have an exit plan and a turn around time, no matter if the trip is simple of hard.
We got back to the hut, and to our relief, they were safe. And not only safe, but warm, with a raging fire in the hut. We took off our wet cloths, hung them out dry and got ready to make dinner. I "suckled on the teat of victory" i.e. smashed some sweetened condensed milk as an appetizer for our curry dinner cooked by James - that was some good mung. After dinner jacko produced some bottles of hard liquor from his bag - Vodka, Scotch and Cointreau. We chewed the cud, shot the shit and had a yarn over some drinks before turning in for the night.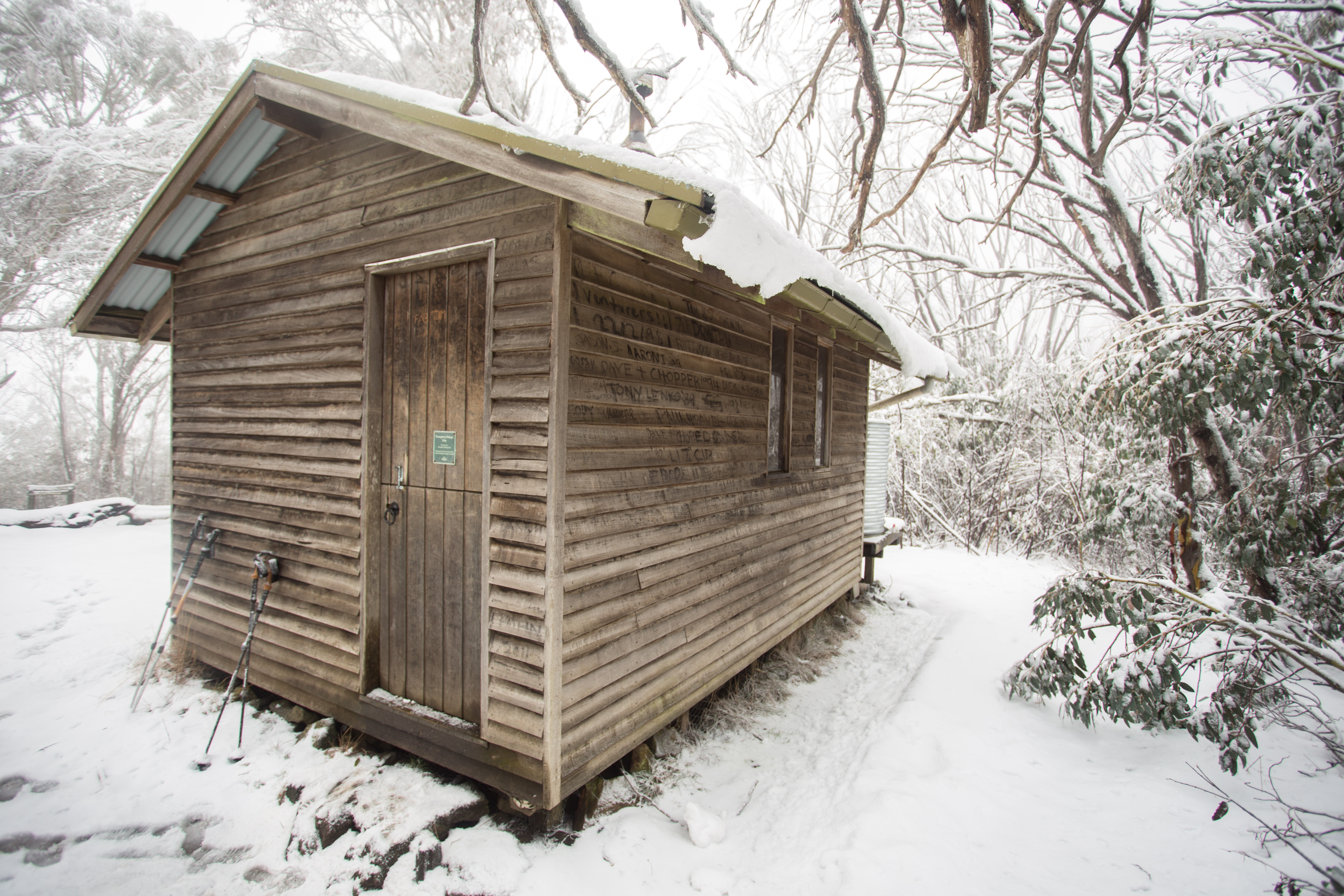 With the thought of getting back to Sydney well after midnight not appealing to anyone, we decided to pack up and head down the mountain the next morning. We left the hut at about 10:30 and made it to the car before midday. After come up the mountain in the dark, it was nice to watch the foliage change from alpine forrest to temperate forrest as we descended the hill. We hit the snow line just before 1300m making it considerably less slippery and treacherous to descend.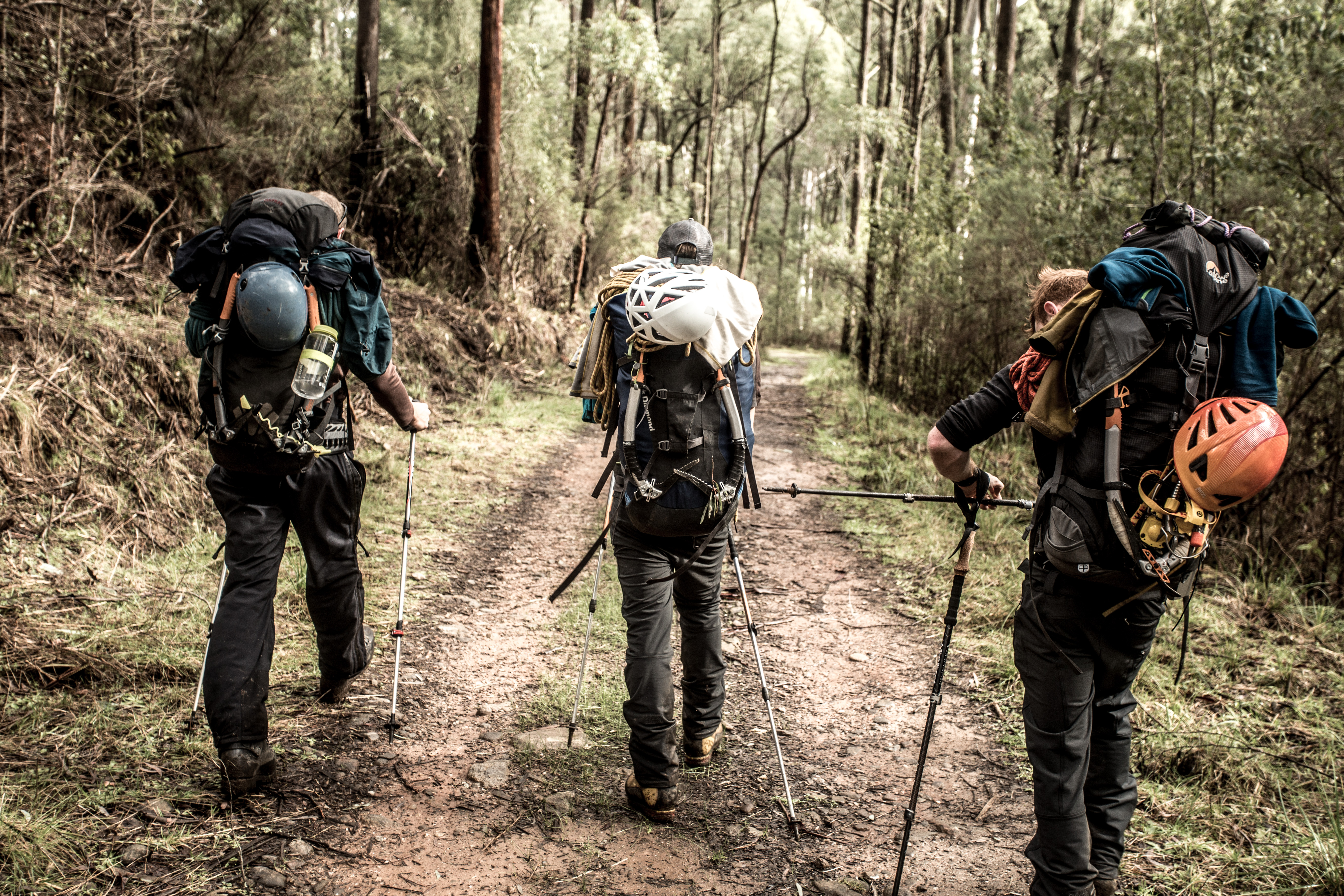 We threw our bags in the car and headed for Mt Beauty for a pie before heading back to Sydney. After dropping the others off, I arrived home just before 9:00pm -  a pretty civilized time considering how far we had to travel.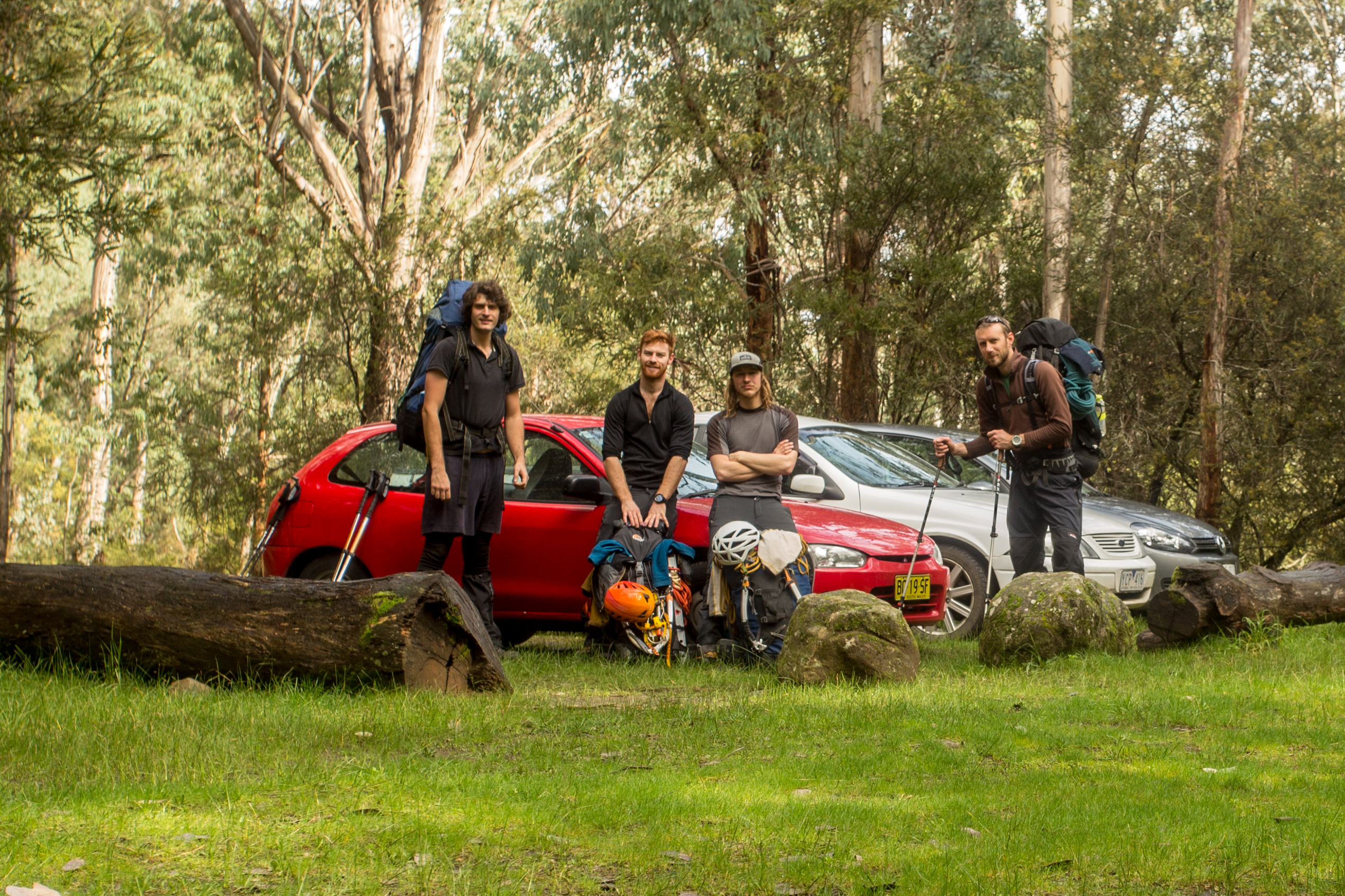 Start Time: 10:00am 2/8/2013
End Time: 9:00pm 4/8/2013
Location: Mt Bogong
Leader: James Bultitude
Participants: Damon Vandermaat, Rene Provis, Jacko